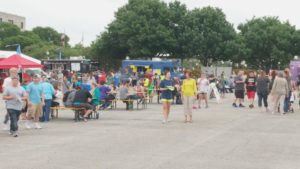 WACO, Texas (KWTX) About 20,000 people gathered in downtown Waco Saturday for the third annual Texas Food Truck Showdown.
The event hosted by the Greater Waco Chamber of Commerce featured 39 trucks, live music performances, and other family friendly activities.
Henrietta Addo enjoyed tasting food from the variety of trucks.
"I love that we have different kinds of stuff to try because you don't always get that. So that's an awesome thing," said Addo.
Spokesperson for the chamber, Julina Macy, said the event helped showcase Waco to visitors.
"This is a great way to bring people downtown to really experience all that we have to offer, and see the thriving growing economy we have here," said Macy.
Trucks from across the state like Hoagieslingers, who came from Wichita Falls, brought their best eats to the event.
Hoagieslingers owner Rebecca Rutledge has been coming for the past two years.
Rutledge said bringing a bit of home for others to taste is the best part.
"That's the joy, that people in Waco get to taste the same food that we sell in Wichita Falls, and it's just an amazing experience," said Rutledge.
Judges awarded Austin food truck, "Gordough's Public House", as the Grand Champion and winner of $5,000.
Other categories including Best Dessert, Most Unique, Best between Buns, Best International, and People's Choice were won by "Savery Grilled Cheese", "That's Amore", "May the Cheese Be With You", "Club Sandwich", and "Bite My Biscuit" respectively.
Planning for next year's Texas Food Truck Showdown is already underway.
"We just want to continue creating this signature event, and continue to grow it and expand it year after year," said Macy.
See original article here.