TFTS History
In 2015, the Greater Waco Chamber of Commerce introduced the very first state-wide food truck competition in the state, The Texas Food Truck Showdown, an experience that would become one of Waco's signature events.
The Chamber's special events team anticipated around 5,000 people to be in attendance for the inaugural event and hoped to secure 20 food trucks from around the state to compete. The first Showdown blew the team's goals out of the water, boasting an impressive 35 food trucks traveling to Waco from all over the state to compete while serving upwards of 15,000 people who attended.
After an outpouring of support from the community, the City of Waco, sponsors and food trucks alike, the Greater Waco Chamber knew The Texas Food Truck Showdown was here to stay. After a successful second, third, fourth and fifth year, The Texas Food Truck Showdown is returning to downtown Waco annually in March welcoming up to 40 food trucks from around the country and over 25,000 people each year!
Get your belly ready for some good eats, we'll see you in Heritage Square on Saturday, March 19 for The Texas Food Truck Showdown 2022!
We are excited to announce that The Texas Food Truck Showdown will be back on March 19, 2022. Below is the Schedule of Events, but please check back regularly as we will be adding information as we get closer to the event. Follow us on Facebook for the latest information!
Celebrity judging from 8 to 10 a.m. *food trucks will begin selling their signature dishes to the public at 10 a.m.*
Competition and Public Voting from 10 a.m. to 4 p.m. – *Only Tasty Tickets are accepted during this time. Tickets will not be available for purchase after 3 p.m.*
Pop Up Market featuring local artists with unique pieces and products. From various artwork to handcrafted jewelry and pottery, visit the market from 10 a.m. to 4 p.m.
Beer and Wine Garden will be available from 10 a.m. to 7:30 p.m. Be sure to enjoy some spirits at our beer and wine garden! Tasty Tickets will not be accepted at the Beer and Wine Garden. Cash or card only.
Live music and entertainment starting at noon, that will continue throughout the day on our main stage.
The KidsZone will include a petting zoo among other children's activities throughout the day.
The Texas Food Truck Champion will be announced around 4:30 p.m.
Food Trucks open full menus from 5 to 8 p.m. for cash/card purchases. *No Tasty Tickets will be accepted after 4 p.m.*
Thank you to our presenting sponsor, Texas Farm Bureau Insurance.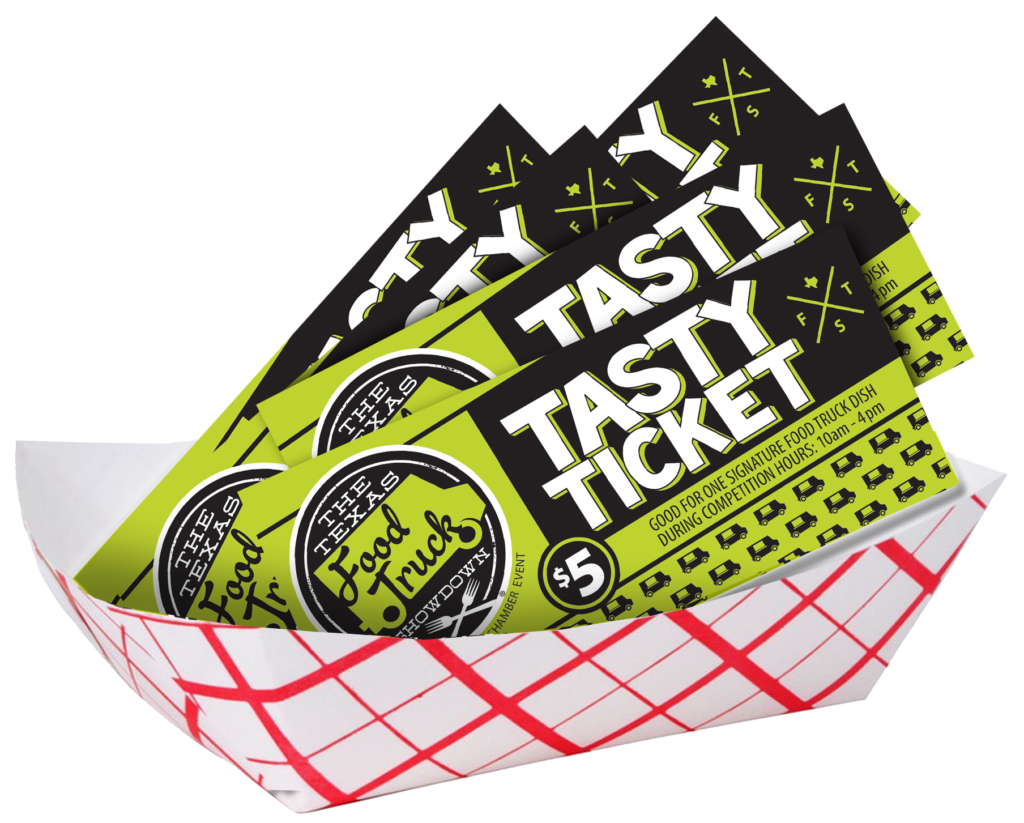 The key to happiness at The Texas Food Truck Showdown is Tasty Tickets.
To get food from ANY of the trucks at The Texas Food Truck Showdown you'll need to purchase Tasty Tickets. During the competition, from 10 a.m. to 4 p.m., Tasty Tickets are required to purchase a signature dish. Only signature dishes will be served during the competition and trucks will not accept cash or cards. Tasty Tickets must be purchased at the ticket booths located near the event entrance using cash or card. Once you have Tasty Tickets, you are free to use them at any truck you want! 
One Tasty Ticket costs $5 and will buy you one 4-ounce signature dish from any truck.
*Please Note: Tasty Tickets will not be sold after 3 p.m. and they become invalid after 4 p.m.; no refunds for unused tickets. The food trucks will open their full menu at 5 p.m. for cash/card purchases.

Bottled water and soda will also be available for purchase directly from the drink trailer with cash or card from 10 a.m. to 8 p.m. (drinks cannot be purchased from food truck vendors). Beer and Wine Garden will be available from 10 a.m. to 7:30 p.m.
NO tasty tickets will be accepted for drinks, beer or wine.
We're excited to have live music for The Texas Food Truck Showdown 2022! 
Live music will begin at noon. Check out our lineup:
12-1 p.m. | MCC Jazz Band 
1:15-2:15 p.m. | MCC Country Band 
2:30-3:30 p.m. | MCC Rock Band 
3:45-4:45 p.m. | Brazos Brothers
5-6 p.m. | The Chris Low Band 
6:30-8 p.m. | The Texas Heatwave Band  
The 2022 Texas Food Truck Showdown Champion will feature five celebrity judges.
The judges will sample each truck's signature dish from 8 a.m. to 10 a.m., where they determined the overall champion and category winners. Once the celebrity judging is complete, the public is invited to taste each truck's signature dish and vote on the People's Choice Award winner from 10 a.m. to 4 p.m.

Lilian Halabi
Owner, Lily's Cakes
Lilian Halabi, owner and baker of Lily's Cakes, is the heart and soul of the specialty bakery in Harker Heights, Texas. She is a self-taught cake artist and baker who started her business in 2010 and has been serving the needs of the Central Texas area since. Her background is rich in different cuisines, from South America to the Middle Eastern and American. Recently, Halabi won a Food Network Cake Wars competition (the Monopoly episode of Season 4) and was voted Best in Central Texas from 2013 to 2016.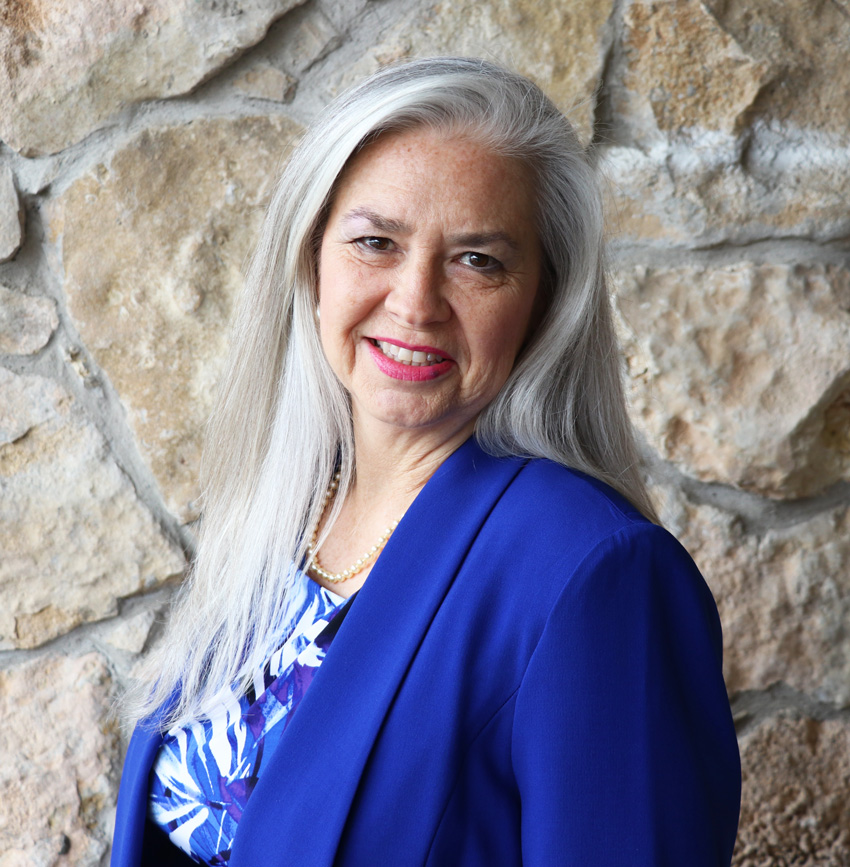 Rhonda Featherston
Area Community Coordinator
Rhonda Featherston landed her dream job with H-E-B as the Waco area Community Coordinator just over a year ago. She, along with teams of H-E-B Partners, volunteers regularly at events that support the community and share the benefits of healthy food choices to school-aged children. Rhonda's transition to H-E-B was a natural fit – before moving to Waco, she owned a restaurant and catering company in Red River, New Mexico called "Help Me Rhonda, Feed Me I'm Hungry." She specialized in traditional New Mexican food and loves to smother her foods with either red or green chiles. As long as she is surrounded by food in one form or another – from gardening, grocery shopping, cooking, or EATING -- Rhonda is happy.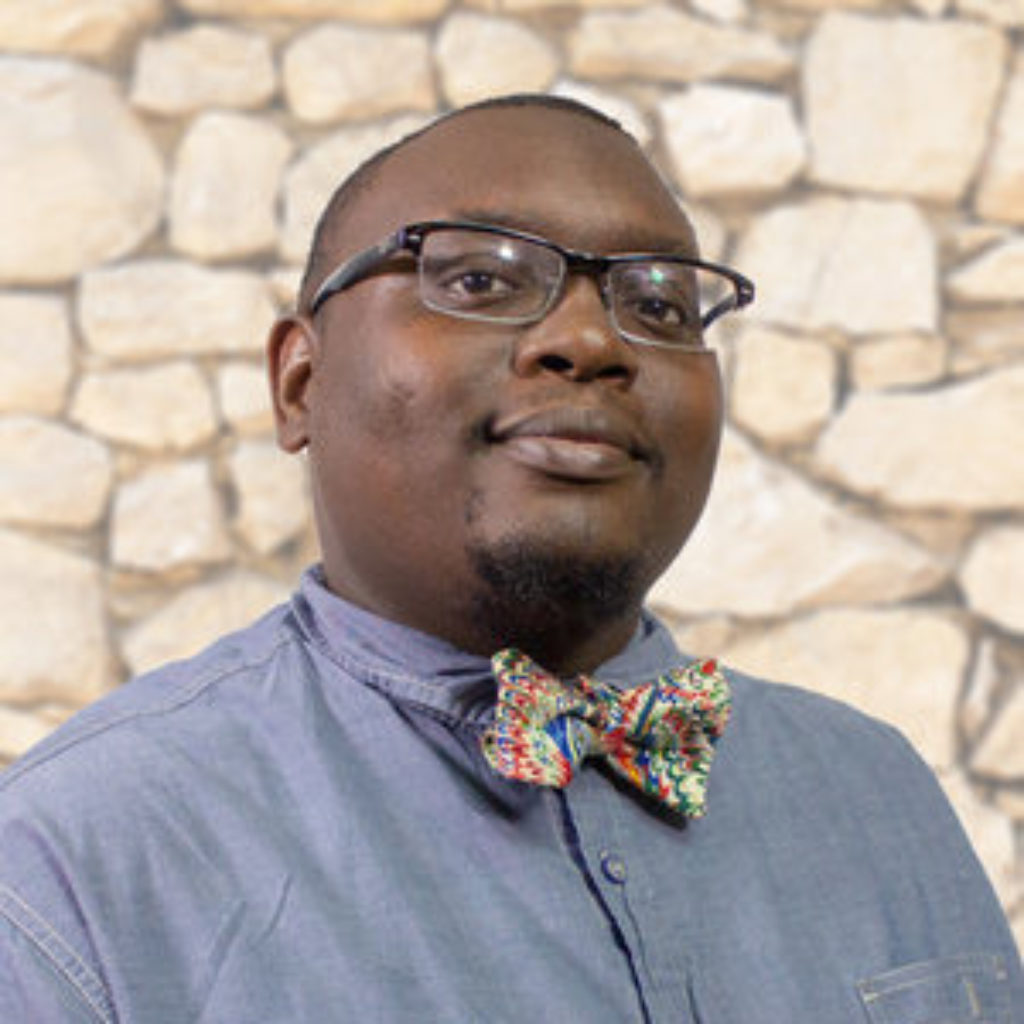 Tré Baldwin
People's Choice Judge - Associate Pastor, Victorious Life Church
Tré Baldwin, a native Wacoan, considers himself an unofficial food critic. He serves as the Associate Pastor at Victorious Life Church. Tré loves to go out and find unique cuisines and restaurants with his wife. He and his wife enjoy watching food shows, trying new recipes at home - even their three children are mini-foodies! Tré feels that his love for food stems from his family having a rich culinary history.
Dillon Meek
Mayor, City of Waco
Mayor Dillon Meek was elected Mayor of Waco on November 3, 2020. He served on the Waco City Council from 2015-2020, representing Council District IV, which includes parts of downtown and Central Waco. While on City Council, he learned the importance of listening, fostering collaboration, and building consensus.
Mayor Meek's greatest joys in his life are his faith and his family, that includes his wife Lindsey and his two children Mabry and Davis. He is a graduate of Baylor University and Baylor Law School, after which he has worked as an attorney and in business specializing in real estate. He currently serves as the general counsel for First Title Company in Waco
NOTE: By attending the event, you consent to be filmed/recorded as part of the audience for security and broadcast without payments.
Still have questions? Use the contact form below.
Volunteer registration for The Texas Food Truck Showdown 2022 is open now! 
There are multiple volunteer positions for this event. The jobs are broken down into shifts of 2-3 hours and volunteers can sign up for just one shift or multiple shifts (any help is appreciated). Each of these positions will play a huge role in helping attendees with questions, greeting them as they enter the venue, assisting them with directions and making sure that each guest is having a great time. Volunteers will receive an event shirt.
You will receive more information regarding your volunteer position in the weeks prior to the event.
We are all excited to work with you again on another great event! Your hard work and dedication make a huge impact on our guests and we greatly appreciate it!
To join us as a volunteer, please click the volunteer button below. 

Questions about volunteering? Please use the contact form below.