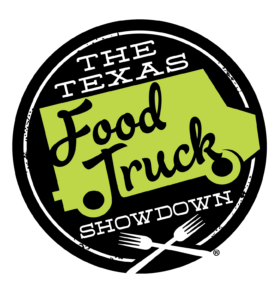 The Texas Food Truck Showdown is a fundraising event for the Greater Waco Chamber of Commerce's many community development and economic programs. 
Prizes will be awarded based on categories selected by the Chamber. Judges will be selected to participate in the process of awarding category winners. The judging will take place from 8 – 10 a.m., tentatively. We will award a $3,000 prize to the Texas Grand Champion; five additional category winners will win $400 each. 
Food trucks accepted into the event will be required to create a Signature Dish that is to be portioned and sold in 4-oz. servings. Each 4-oz. serving will be sold in exchange for one Tasty Ticket, which are sold for $5 per ticket. For every food ticket received between 10 a.m. – 4 p.m., vendors will receive $3 cash from the Chamber. Only one ticket may be taken per Signature Dish. 
The TFTS competition ends at 4 p.m., at which point, trucks will close for rest and restocking purposes. At precisely 5 p.m., trucks will re-open for full menu sales until 8 p.m. During this time, vendors can sell any food items and accept any form of payment directly. Tasty Ticket sales will end at 3 p.m., but vendors are not allowed to accept any other form of payment until 5 p.m. Failure to respect this rule will result in immediate disqualification and forfeit payment of the tickets received.
Public voting (People's Choice Award) will be tallied by tickets that patrons cast in favor of the dish they like best. 
If you run out of your Signature Dish, you MUST SHUT DOWN. You may stock up and re-open at 5 p.m. during open sales. If you make changes to your Signature Dish or sell other items during the competition, you will be disqualified and forfeit payment from the tickets received. There will be volunteers monitoring the trucks throughout the day. Be prepared to serve a large crowd – remember, the attendance goal is 25,000 to 35,000 people, so plan your dish accordingly.
All completed applications will be reviewed. The Lineup will be announced February 5 via email and social media. Application submission does not signify acceptance. All applying vendors are subject to a non-refundable application fee of $25, which is due at the time of application and must be complete to be considered.
The Chamber will accept only 40 vendors to compete in the event. The non-refundable entry fee for each food truck vendor is $350 (non-negotiable). If a truck is not selected as part of the Lineup, the truck may be placed on the waitlist. If selected for the final Lineup, you will be contacted for vendor payment. Applications submitted after the deadline will be placed on the waitlist. Those on the waitlist will be moved into the Lineup in order of acceptance.
The Chamber will have an outdoor beer garden with alcoholic beverages available for sale to patrons as well as soft drinks and water stations. Trucks are NOT allowed to sell, sample or include alcoholic and/or non‐alcoholic beverages, complimentary or paid.  
Trucks must have a valid McLennan County Food Service License or must apply for a Temporary McLennan Food Service License ($45). Each vendor must submit proof of Temporary Food License application no later than 5 p.m. on Tuesday, March 1. Failure to submit proof on or before the deadline WILL disqualify a vendor from the event, and a wait-listed vendor will replace the disqualified vendor's spot in the lineup. 
Vendors accepted into the Showdown will also be required to complete and return a W-9 Taxpayer ID Form and a Certificate of Insurance (COI) listing Greater Waco Chamber of Commerce and City of Waco as additionally insured by March 1. 
Vendors must arrive between the following time slots:
Friday, March 18 between the hours of 2 – 8 p.m. or Saturday, March 19 between the hours of 5 – 6 a.m. Failure to arrive within the above time slots will result in disqualification from judging.
There is also a mandatory pre-event meeting at 6:30 a.m. Saturday, March 19 with the event directors. At least one representative from each truck is REQUIRED to attend. View the Food Truck application for additional contract details. 
Interested in being a vendor in our Pop Up Market? Check out the Pop Up Market application.
FOOD TRUCK VENDOR APPLICATION & CONTRACT
Competitor information for 2022 is listed below.
JUDGING: 8 a.m. - 10 a.m. (trucks will not be open to the public during this time)
COMPETITION: 10 a.m. - 4 p.m.
OPEN SALES: 5 p.m. - 8 p.m.
LOCATION: Heritage Square in Downtown Waco
APPLICATION FEE: $25 (non-refundable)
OPTIONAL: Refrigerated truck access $25
HEALTH PERMIT: If your truck normally operates outside of McLennan County, you will need to apply for a temporary health permit - $45. If your normal operations are within McLennan County, we will need a copy of your health permit. 
ESTIMATED ATTENDANCE: 25,000
This application is only for Food Trucks interested in competing in the 2022 Texas Food Truck Showdown. 

POP UP MARKET APPLICATION & CONTRACT
The Texas Food Truck Showdown has a Pop Up Market designated for boutique vendors! Come flaunt what you've got!
Saturday, March 19, 2022, 10 a.m. - 8 p.m.
Heritage Square in Downtown Waco
Vendor fee is $200 and include a 10'x10' space with one table and two chairs
No food or drink may be sold, served or given away NO EXCEPTIONS
Vendor Space will be assigned at the Waco Chamber of Commerce's discretion
This application is only for vendors interested in participating in the Pop Up Market at the 2022 Texas Food Truck Showdown.