Congratulations to our 2019 Winners!
Grand Champion: Churros' Time from Waco, TX
(Mini Churros – Churros filled with dulce de leche, vanilla ice cream & whipped cream)
Most Unique: Southern Xposures from Dallas, TX
(Dirty Wingz – Jumbo deboned chicken wing stuffed with dirty rice)
People's Choice: Cajun on da Geaux from New Braunfels, TX
(Dirty Gator – Red beans & sausage topped with jambalaya fried gator drizzled with signature blackened ranch)
Best BBQ: Catered Delights from Ennis, TX
(Single Sided Super Slider – Fried flatbread, pulled pork, coleslaw, BBQ sauce & green onions with candied bacon)
Best Dessert: The Ice Cream Kartel from Mentor, OH
(Gimme S'more Sundae)
Best Between Buns: Five Boys Ranch from Bridgeport, TX
(Bourbon Blueberry Bacon Slider)
Best International: Holy Frijole from Ft. Worth, TX
(Taco De Tablitas Con Nopal)
Thanks so much to everyone who came to our 2019 annual event!
See Below for the 2019 Truck Lineup!
Interested in becoming a 2020 Food Truck? See our Vendor Information page for more details on how to apply.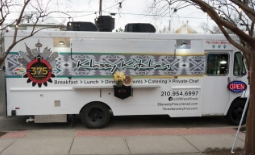 375º KLASSY KITCHEN
Signature Dish: Navajo Taco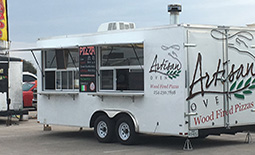 ARTISAN OVEN
Signature Dish: Gorgon Pizza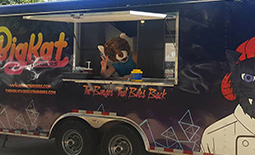 BIG KAT BURGERS
Signature Dish: The Cheesy Kat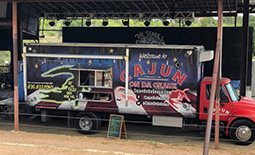 CAJUN ON DA GEAUX
Signature Dish: Dirty Gator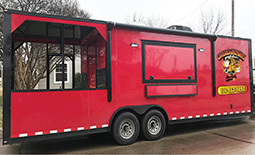 CATERED DELIGHTS LLC
Signature Dish: Single Sided Super Slider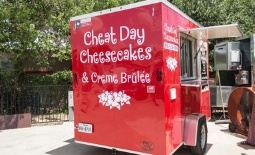 CHEAT DAY CHEESECAKES
Signature Dish: Salted Caramel Creme Brulee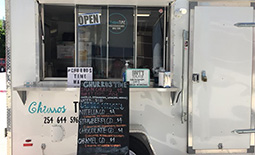 CHURROS' TIME
Signature Dish: Churro Cup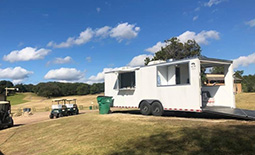 CLUCK N BURGER
Signature Dish: "Piggie Smalls" Slider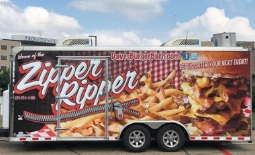 DAVE'S MOBILE
Signature Dish: All-American Bacon Cheeseburger Slider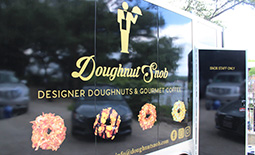 DOUGHNUT SNOB
Signature Dish: Maple Bacon Doughnut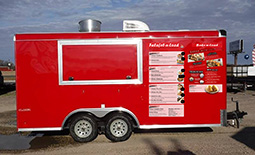 FALAFEL-N-LOAD
Signature Dish: Chicken Shawarma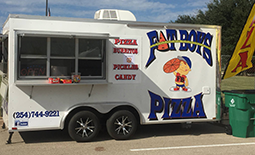 FAT BOYS PIZZA
Signature Dish: Baked Potato Pizza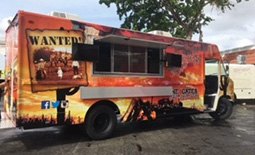 FIVE BOYS RANCH
Signature Dish: Bourbon Blueberry Bacon Slider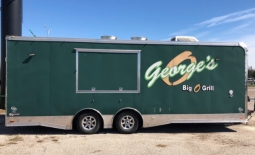 GEORGE'S
Signature Dish: Bear Bites with Cilantro Chipotle Ranch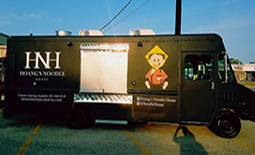 HOANG'S NOODLE HOUSE
Signature Dish: HNH Egg Rolls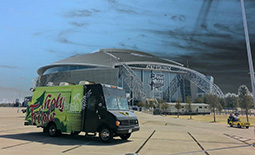 HOLY FRIJOLE
Signature Dish: Taco De Tablitas Con Nopal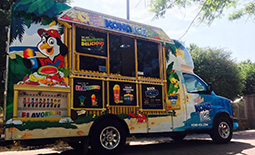 KONA ICE OF WACO
Signature Dish: Shaved Ice with Various Flavors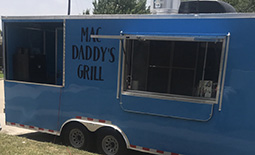 MAC DADDY'S GRILL
Signature Dish: Mac Daddy Nachos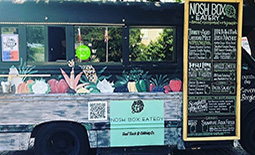 NOSH BOX EATERY
Signature Dish: Turkey & Aged Cheddar Melt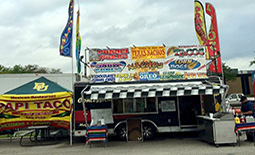 PAPI TACO
Signature Dish: Funnel Cake Sundae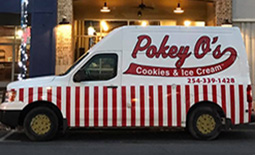 POKEY O'S
Signature Dish: Stufferdoodles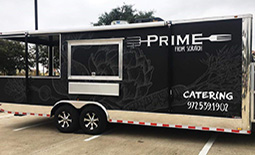 PRIME FROM SCRATCH
Signature Dish: House Cured Pastrami Rueben Eggrolls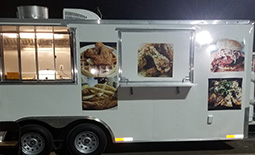 RAGIN CAJUN LOUISIANA KITCHEN
Signature Dish: Brisket Grilled Cheese Sandwich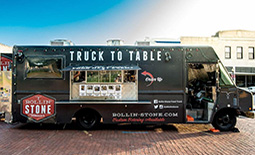 ROLLINSTONE FOOD TRUCK
Signature Dish: Bad Mother Clucker Slider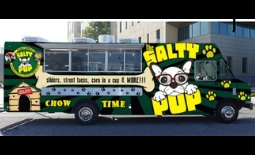 THE SALTY PUP
Signature Dish: Big Dog Slider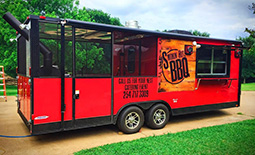 SMOKIN HOT BBQ
Signature Dish: Smoked Mac & Cheese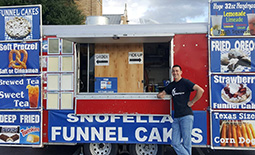 SNOFELLAS LLC
Signature Dish: Deep Fried Chocolate Chip Cookie Dough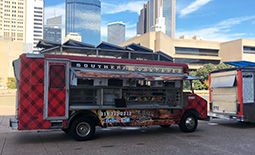 SOUTHERN XPOSURES
Signature Dish: Dirty Wingz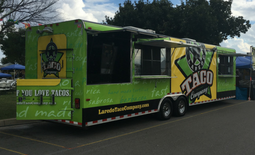 STRIPES LAREDO TACO COMPANY
Signature Dish: Carnitas Bravas Taco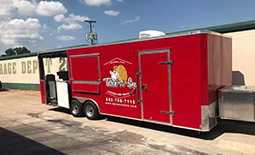 TASTE N SEE
Signature Dish: Chicken Cinnamon Roll Waffles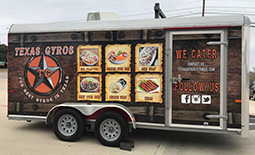 TEXAS GYROS
Signature Dish: Lamb over Rice
THE BUZZ
Signature Dish: Bao Bun Karachi Chicken Tacos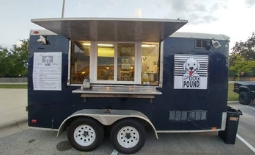 THE DOG POUND
Signature Dish: Pulled Pork Nachos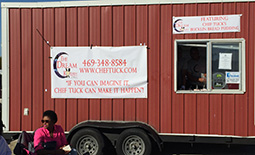 THE DREAM KITCHEN
Signature Dish: Texas Birds Nest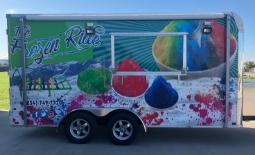 THE FROZEN RIDE
Signature Dish: Shaved Ice with Various Flavors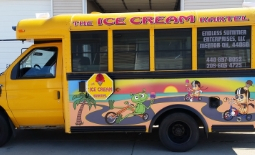 THE ICE CREAM KARTEL
Signature Dish: Gimme S'More Sundae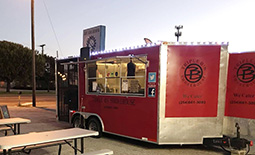 TRIPLE B'S SMOKEHOUSE
Signature Dish: Hawaiian Pulled Pork Sliders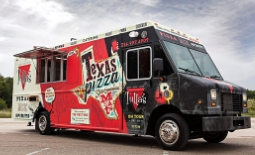 TUTTA'S PIZZA
Signature Dish: The Chipper Pizza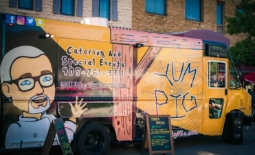 YUM PIG
Signature Dish: The Loaded Fries