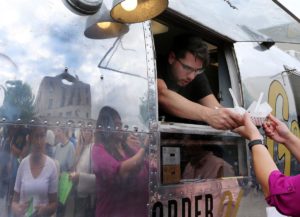 Heritage Square buzzed Saturday, attracting crowds of locals and visitors for the third annual Texas Food Truck Showdown.
"There's a lot of good people that live here that deserve to have stuff like this, so it's cool to have people coming to town that want to be here and want to be a part of the change and revitalization," said Carter Rodman, who works in Waco.
About 20,000 people attended to visit the 39 food trucks and other attractions, said Julina Macy, spokeswoman for the Greater Waco Chamber of Commerce.
"It's awesome," said Jesse Husbands, owner of Rock'n Roller'z Roll'n Grill from Abilene. "It's a beautiful town, so we couldn't ask for a better place to be."
Husbands' truck won the competition's Best Between Buns award last year. He returned this year serving the Red Rock, a burger with provolone cheese, beefsteak tomatoes, spinach, arugula, bacon jam and garlic aioli.
Gourdough's Public House, of Austin, Grand Champion for its Gourmet Big Fat Donut
Savery Grilled Cheese, of Austin, Best Dessert for its Cookie Dough Eggrolls with Homemade Fudge and Ice Cream
That's Amore, of Saginaw, Most Unique for its Pot Roast Stromboli with Gravy
May the Cheese Be With You, of Belton, Best Between Buns for its Grilled Cheese Trilogy
Club Sandwich, of Waco, Best International for its Deep Fried Tamale Balls
Bite My Biscuit, of Watauga, People's Choice for its Cluck'n Ranch.
Gourdough's title came with $5,000, and the other winners won $500 each.
"It's refreshing to see all these different people come out from all these different places integrated with all these local food trucks, too," said Karla Jaramillo, a Baylor University student from Houston.
Four performances from Twiggy, a water-skiing squirrel who travels the country, amazed children and adults alike.
LouAnn Best, self-dubbed "mom, cook, bottle washer and pooper scooper" of the Twiggy movement, has promoted the show since 1979. She uses her platform to teach children about water safety after her husband, Chuck, died in a boating accident in 1997.
Twiggy has traveled across the United States and Canada and performed in France and Germany. The squirrel attracts widespread media attention and has even made film appearances.
"How about that? That squirrel can water ski," quipped the movie character Ron Burgundy, a television news anchor played by Will Ferrell in "Anchorman."
Jennifer Stratman, the chef of Austin-based The Ginger Armadillo, said this is her food truck's second year in Waco. She serves "elevated Texas cuisine" of barbecue, Tex-Mex and chili.
"Waco has grown a whole lot the last couple of years," Stratman said.
See original article here.