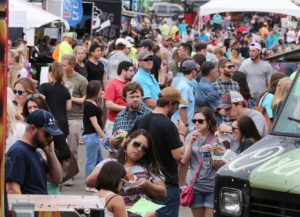 The Greater Waco Chamber of Commerce has announced the lineup for this year's Texas Food Truck Showdown held March 17 at Heritage Square, so mouths can start watering.
It's the fourth annual showdown and last year's version drew some 20,000 people.
The lineup page shows 31 food trucks, down from the 39 that participated last year, with six from the Waco area.
Nothing truly exotic, but several offerings already in the running for highest calorie count, including the "peanut butter chocolate cookie dough egg roll," the "crisp fried brisket mac & cheese with creamy cheese sauce" and the "bacon wrapped buffalo chicken frito pie."
(These also could be entries in an add-the-correct-punctuation contest, but I digress.)
Winner of the best signature dish title goes to the Coldstone Creamery On Wheels with its "hunka chunka burnin' banana split decision."
Full article here.